Trillium Sisters 2: Bestie Day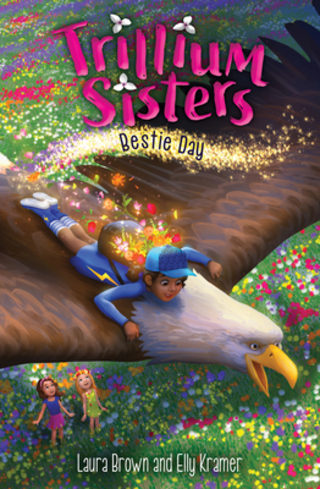 Written by Laura Brown
When the ecosystem of their mountain home is threatened, the triplets join forces and channel their super powers into saving the day in the second book in the Trillium Sisters chapter book series, perfect for fans of Mia Mayhem and The Wish Fairy.
The Trillium Triplets are flying into action!
Wondering if their powers will return, Clare, Emmy, and Giselle throw themselves into preparations for Bestie Day, when everyone in Trillsville celebrates the special people in their lives. The girls are planning to make presents for one another from fallen flower petals. That way, they can enjoy the beauty around them without causing harm.
But at the flower field, instead of finding beautiful blooms, the Trills find a big problem. Two girls from town are cutting so many flowers for their Bestie Day bouquets that the bees can't get enough nectar. And without the bees, the entire mountain ecosystem could fall apart! When their Trillium powers activate, will the sisters be able to buzz to the rescue?